Pneumatic-Our Offering Air Compressors Screw Diesel Engine Banner Content
Screw Air Compressors
DIESEL ENGINE DRIVEN PORTABLE COMPRESSORS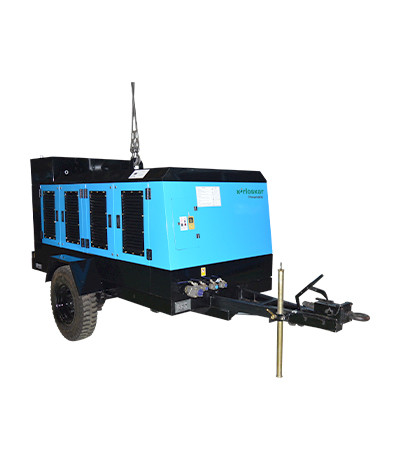 Pneumatic-Our Offering Air Compressors Screw Diesel Engine Body Content
---
Easy Portability : Large diameter wheels with balanced design of weight distribution facilitate easy portability
Quality Air : Efficient air / oil separation system ensures maximum oil recovery to minimise lub oil consumption and maintenance cost.
Canopy : Specially designed silent canopy to facilitate effective ventilation and ease of maintenance.
Diesel engine : Screw compressors are powered by engines, that are engineered to provide better fuel economy and low emissions in its class. Equipped with these engines, the compressors provide the customers with a durable performance at a low cost of ownership.
Air suction filter : Dry type air filter protects the air end and ensures long life.
Service Centre : Fully equipped Service Centres with trained engineers and spare parts stocks available across the country.
---
KPCL Diesel Engine Driven Portable Compressors are used for applications like construction & mining, General engineering etc. These units cover a wide capacity range from 4.38 to 21.23 m³/ min & pressure range from 7 to 12.5 Kg / cm².
Pneumatic-Our Offering Air Compressors Screw Product Similar Product Slider Content
Similar Screw Air Compressors